What You Need to Know
Ergonomics

Quality

Aesthetics

Value
Summary
The XTech Tactical ATG pistol grip features an adjustable two-piece design that lets you choose which angle is right for you and your shooting style. It's also great for accommodating shooters of all shapes and sizes.
$20 FROM XTECH TACTICAL
Reduced angle pistol grips are hot right now, not because they are new or unique, but because they really work for a lot of shooters.
They help bring your hand forward a little bit, which makes actuating the magazine release, bolt catch, and safety selector switch easier.
They also facilitate a squared shooting stance by keeping your wrist in a more natural position when your arms is tucked to your side.
That's not to say it works well in every situation or for every shooter. Sometimes different shooting styles or positions make a reduced angle unsatisfactory.
So what do you do in that situation? Well, that's exactly where XTech Tactical's ATG pistol grip fits in. It's simple-but-effective design lets you adjust the grip angle to what ever works best.
To me, that's a pretty compelling idea, and when XTech Tactical sent me a sample to review I was really excited to put it to the test. Here's what I found.
Unboxing XTech Tactical's ATG Pistol Grip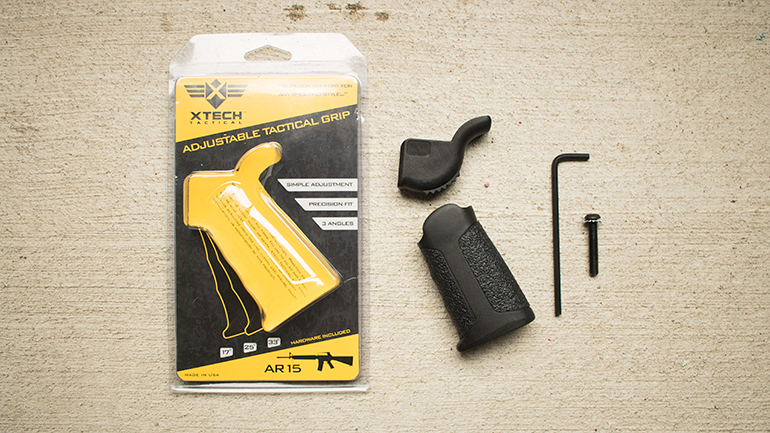 Packaging
XTech Tactical did well here. Instead of being completely sealed, the packaging simply snaps together. So you don't need garden shears to get this thing open.
Everything else is simple and unremarkable. Inside you find the two-piece pistol grip and a cardboard insert with installation instructions printed on the back. You also get an Allen key and mounting hardware.
Notably, a safety selector spring and detent pin are not included, so keep your original parts.
Initial Impressions
Everything seems on the up-and-up as far as quality and ergonomics are concerned. There are no glaring quality control issues or evidence of poor craftsmanship.
The grip itself feels really good in hand. It's a bit narrower than a standard A2 pistol grip and has subtle finger grooves, which is a nice touch.
Aesthetics leave a little to be desired. The two-piece design is unorthodox and the styling is a little conservative. Otherwise everything looks great.
Mounting Hardware
What you get is a matte black 1/4-28 pistol grip screw and a tooth lock washer. The mounting hardware is high-quality and the included Allen key will make installation a breeze.
Like I noted before, a safety selector spring and detent pin are not included. These should come with your lower parts kit, otherwise you will need to purchase them separately.
Installation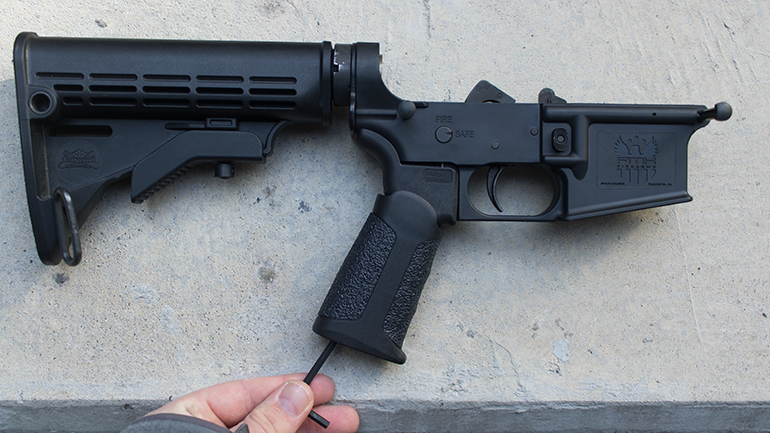 Installation is straightforward and if you've installed a pistol grip before it is essentially the same process. The only added step is to adjust the angle of your grip before final tightening.
To make things easy, I've listed all the parts, tools, and steps you will need to take to install your pistol grip.
Parts Needed
Safety Selector Spring (Not Included)
Safety Selector Detent (Not Included)
XTech Tactical ATG Pistol Grip
Tooth Lock Washer
Hex Head Pistol Grip Screw
Tools Needed
Bench Vise (Optional)
Lower Receiver Vise Block (Optional)
Allen Key
Installation Instructions
Insert the safety selector detent into the detent hole with the point facing towards the selector.
Insert the safety selector spring into the hole on the pistol grip receiver mount.
Place the pistol grip receiver mount onto the firearm, making sure the safety selector spring aligns with the detent hole in the lower receiver.
Using the Allen key, insert the screw through the hole in the grip.
Place the grip onto the receiver mount at the desired angle. Apply downward pressure on the grip and drive the screw to complete installation.
Finally, test the function of your safety selector switch to verify proper installation.
Build Quality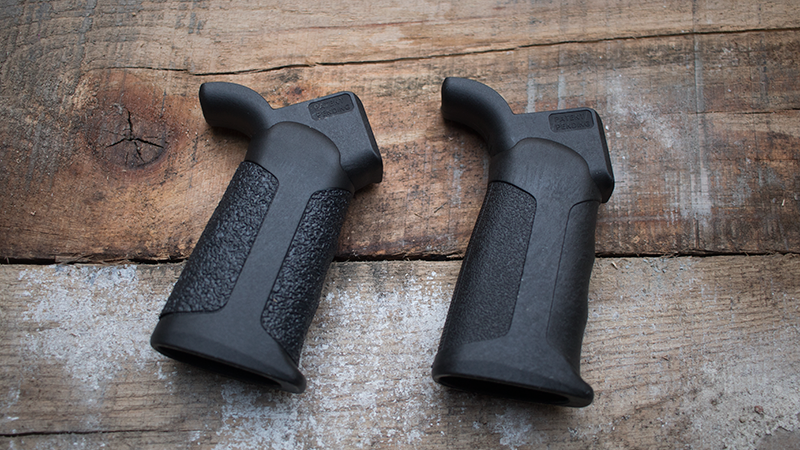 I did have some reservations about this pistol grip initially. I was not necessarily convinced that the two piece design would be as reliable as a standard one piece pistol grip. However, after exposing it to some abuse, I can say with confidence that this thing is indeed rock solid.
After more than a few "drops," I experienced zero loosening or slipping of parts. So you shouldn't experience any issues if everything is installed and torqued down correctly.
The pistol grip itself is made from a durable polymer and is available in two colors, black and flat dark earth. Material quality is as good or better than other high-quality grips I've tested, and I have no concerns about long-term durability at all.
The pieces are secured together with the pistol grip screw and intersecting gear-like edges. This prevents the pieces from slipping, but also means that you can not adjust the grip without an Allen key.
That may be a downside for some, but I think adding a mechanism to adjust it on the fly may create a weak point. I'm someone who likes simple when it comes to firearms and I think XTech Tactical's implementation is spot on in this case.
Ergonomics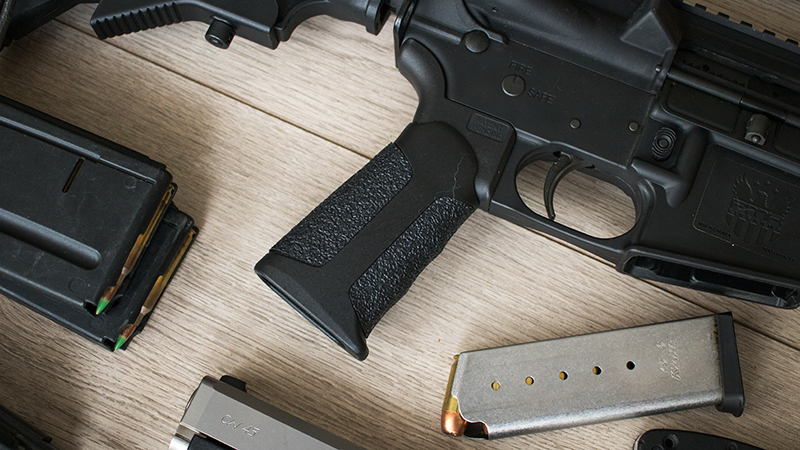 Comfort
The subtle finger grooves, subdued texturing, and beavertail backstrap make this an exceptionally comfortable pistol grip. However, there are a few concerns worth addressing.
First, though the grip has pleasant finger grooves, the lack of a palm swell means it feels a bit thin. This is largely a matter of preference, however, for me it caused mild fatigue after a few hours at the range. But I do have larger hands (they're yuge) and I haven't heard from complaints like this from others.
Second, the understated texturing is great at reducing irritation but it becomes rather slick when you hands are wet or sweaty. This is very common with hard polymer pistol grips and XTech does have a special grip tape that solved the issue for me.
Adjustable Grip Angle
This is the thing that really sets this pistol grip apart from others. The ability to adjust grip angles has a few benefits. Chief among them is the ability to accommodate various shooters and their shooting styles.
The idea is that a reduced angle facilitates a squared stances while a more aggressive angle is better for a bladed stance and, for some, while shooting in a prone position.
Adjusting the grip angle also offer a means to fine tune finger placement. So whether you have small or large hands you can comfortably and consistently actuate the trigger, magazine release, or bolt release.
For me this worked out pretty well. The 17 degree angle was very comfortable in both a standing and kneeling positions. It placed my wrist in a natural position and helped mitigate fatigue while shooting in a squared stance.
The 25 degree angle offered similar comfort in all shooting positions and I really liked the 33 degree angle in a prone position.
Final Thoughts
This is a great pistol grip if you want to fine tune your weapon based on your shooting style, size, or to accommodate other shooters.
It's a great concept and an equally great implementation of the idea. The build quality and materials are top-notch, it's extremely durable, and it's very comfortable.
It does have it's flaws, though. Although a common complaint about hard polymer pistol grips it gets rather slick when wet and the grip tape is an extra cost on top of the grip itself. This is something that I think should be included.
Overall, though, I really liked this grip and can recommend it to anyone.