Which lower receiver should I buy? This is a question that pops up on the gun forums almost every day. I get it, it's challenging, especially with superb choices like the Battle Arms Development Lightweight Billet Lower and Seekins Precision SP223 Billet Lower.
But depending on your budget and what's available at the time, the lower receiver you should get may be a little more down-to-earth. Something with a great price-performance ratio like the Aero Precision Gen 2 Forged Lower or Anderson Manufacturing Forged Lower might suit you better.
On the bright side, having options is a good thing – as long as you're armed with the knowledge necessary to make an informed decision. Hopefully, I can help you in that department and also help you avoid making any costly mistakes.
There are tons of different styles, brands, types, and features. Muddling through all of the unfamiliar jargon can be overwhelming, and I understand how you feel. That's why I've created this AR-15 lower receiver buying guide to help you narrow down your options and understand exactly what you're purchasing.
Best AR-15 Lower Receivers By Type
I think it's beneficial to explore your available options first. That way you can start to gain a better understanding of what different brands have to offer you.
Note that you may run across some unfamiliar terminology. But don't worry, it will be covered later on in this guide. I'm sure by the end, understanding things like the difference between a forged and billet receiver will be second nature to you.
With that in mind, I've created an interactive list, broken down by type, that will let you compare and contrast different makes. Select the button for additional information.
[table id=3 /]
Top 5 Best AR-15 Lower Receivers
Now that you have an idea of what's available, let's dig a little deeper. I've created a list of my five favorite lower receivers broken down by category or type.
You'll find that there are some common characteristics that are important, but it really comes down to personal preference. As long as your lower receiver is made of quality materials, has good craftsmanship, and fits your budget, then you're golden. I'll talk more about this later in the guide.
But there are a few lower receivers that standout because they are such a great value, have unique features, or exceptional build quality. Here are a handful:
Best Price-Performance Ratio: Aero Precision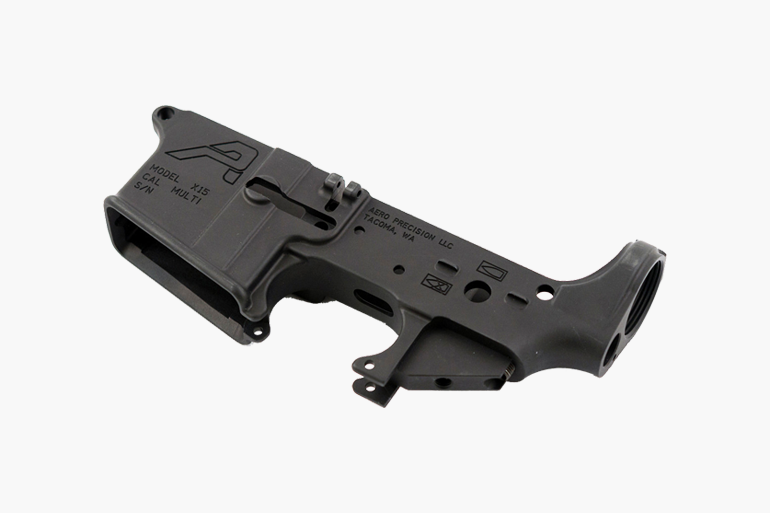 Aero Precision has a strong reputation for producing top-shelf parts, and their forged lower receiver certainly is one of the best on the market.
That means it has all the good stuff like forged 7075-T6 aluminum and precision machined surfaces that interface precisely with your mil-spec and aftermarket parts. But, there are two other features that really set this lower receiver apart from others on the market.
First is an upper tension screw, which lets you fine tune the fit between the upper and lower receiver by adjusting a set screw located in the grip tang. This ensures a tight fit with any AR-15 upper receiver, regardless of manufacturer.
Second is a flared magazine well that facilitates the easy insertion of magazines. This is a great performance upgrade if you're a competitive shooter or want a little better margin of error when doing quick reloads.
Every model I've tested has had exquisite fit and finish, great machine quality, and tolerances have been spot on. If you're looking for a great high-performance lower receiver at a great price, this is it.
Type: Forged
Material: 7075-T6 Aluminum
Finish: Hardcoat Anodized; Cerekote
Warranty: Limited Lifetime
GET INFO
Best Budget Lower Receiver: Anderson Manufacturing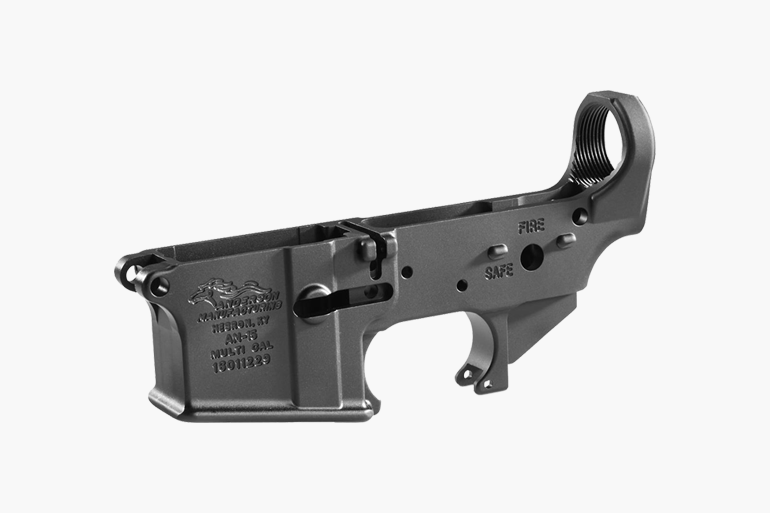 Anderson Manufacturing is proof positive that you don't need to drop a ton of cash to get a great receiver. And at around $50, this thing is a steal for what you get.
Let's run down some of the features:
Forged 7075-T6 aluminum construction
Hardcoat anodized or Cerakote finish
Precision machined to ensure drop-in installation of your parts
Limited lifetime warranty against defects and workmanship
Sure, you won't get anything extra, like flared magazine wells, but at this price point you can't complain. What you do get is a solid, durable lower receiver that will function flawlessly in any scenario.
There is one problem, though, and I would be negligent if I didn't mention it. This lower receiver is just not very cool.
I know that's hardly worth mentioning for some, but for others it can be a big deal. Unfortunately, some AR-15 snobs will look down on you for rocking an Anderson lower. I don't know, maybe they think it's too cheap or passé for them.
But, from my personal experience, it's a great lower receiver. And considering all the positive feedback I hear, others love it too. While they are rather unremarkable, for the price, they are hard to dismiss. If you're doing a budget or military-style build, they are definitely worth a look.
Type: Forged
Material: 7075-T6 Aluminum
Finish: Hardcoat Anodized; Cerekote
Warranty: Limited Lifetime
GET INFO
Best Billet Lower Receiver: Battle Arms Development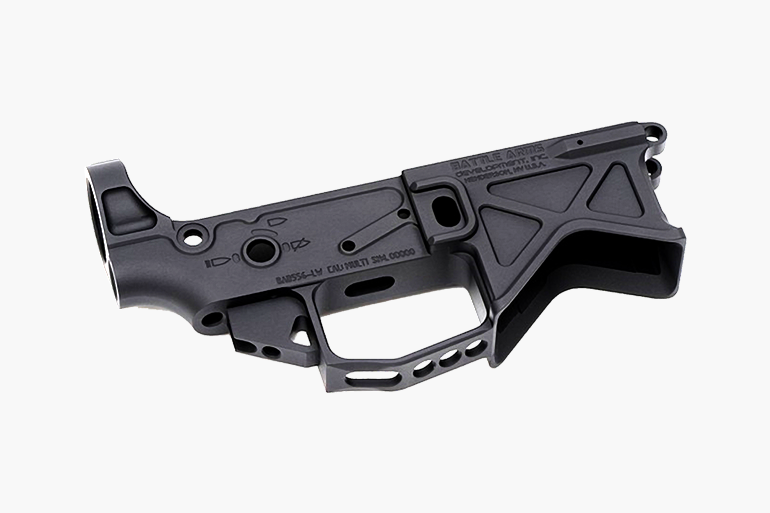 Battle Arms Development is another company with a great reputation for manufacturing high-quality products, and their billet lower receiver definitely lives up to the name.
I can tell you from firsthand experience that this thing is almost a work of art- the level of detail is unreal. Which is why you'll want to match this lower with other top-shelf parts. But it's not all about the aesthetics with this piece.
The lower is CNC machined from 7075-T6 aluminum and features details like flared magazine wells, pictograph selector markings, an easy install set screw bolt catch pin, and an upper/lower receiver tension screw among other things.
But all that beauty and functionality does come at a price. And it's $278 price tag is hard to swallow, especially when you consider cheaper forged options.
Nonetheless, it's a great receiver and something definitely worth the purchase if you're looking for something special and can justify the expense.
Type: Billet
Material: 7075-T6 Aluminum
Finish: Hardcoat Anodized; Cerekote
Warranty: Limited Lifetime
GET INFO
Best Polymer Lower Receiver: Tennessee Arms Company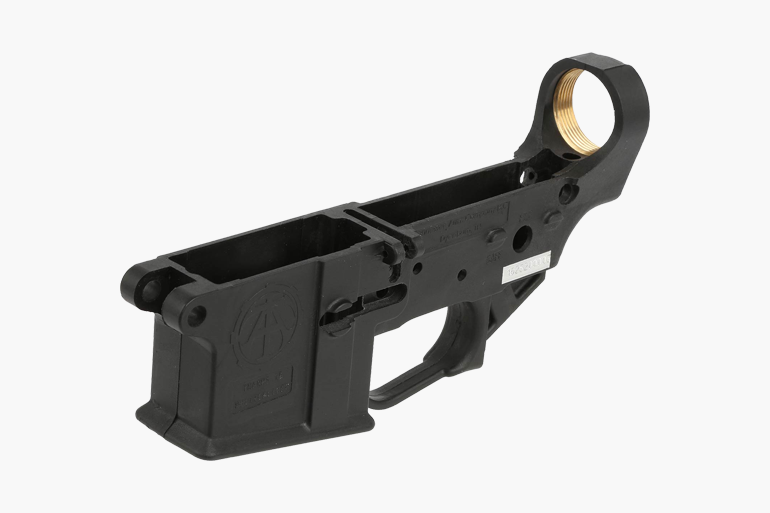 Polymer lower receiver technology has advanced a lot in a short time. Still, their reputation for long term reliability is poor. The thing is, sub-par polymer blends and inferior designs simply won't hold up to the rigor of daily use.
But manufacturers have really stepped up to the plate lately, and have invested a lot of time into selecting quality materials and making design changes that promote reliability.
If there is one company that has really raised the profile of polymer lower receivers, it's Tennessee Arms Company. In fact, they've raised the bar so high, that it's now very hard to find any real-world difference in reliability when compared to forged or billet aluminum receivers.
A High-quality and consistent polymer blend, metal inserts, and simple design tweaks make this thing dead reliable. It's also dirt cheap- you can often find these receivers for less than $50 online.
So if you're interested in taking a dip in the polymer lower receiver pool, this is an excellent choice. I think you'll be pleasantly surprised.
Type: Injection Molded
Material: Polymer
Finish: None
Warranty: Limited Lifetime
GET INFO
Best 80% Lower Receiver: James Madison Tactical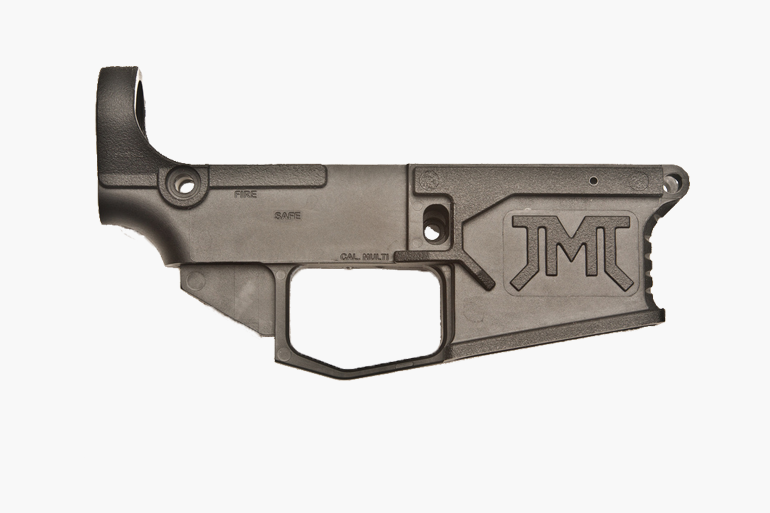 80% lower receivers offer you the opportunity to build a weapon without a NICS check or an FFL. The crux is you will need additional tools, like a drill press, router, or lathe, to make it function.
But don't let that stop you. If you have the money, time, and technical know-how to complete this project then you may find it very worthwhile and rewarding.
James Madison Tactical offers you a great starting point with their high-quality, easy to machine polymer 80% lower. They even provide all the jigs and instructions you need to take this project to completion.
As far as polymer receivers are concerned, this thing is top-notch and has plenty of reinforcement, which ensures reliability over time. From my perspective, this is a great option if you're up for the challenge.
The price is a little steep, however, at around $100. So, keep that in mind when selecting the best 80% lower for you.
Type Injection Molded
Material: Polymer
Finish: None
Warranty: Limited Lifetime
GET INFO
Choosing An AR-15 Lower Receiver: The Major Factors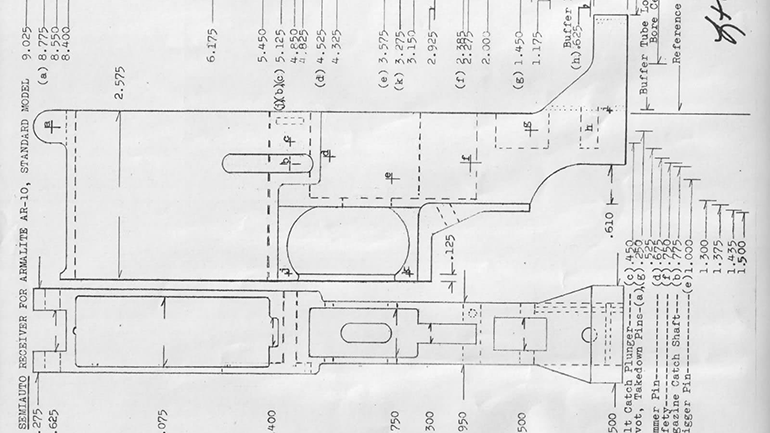 Now, let's get to the meat of the matter. There are three factors to consider when you look for an AR-15 lower receiver. They are:
Type – Whether it's forged, billet, or polymer, the type of lower receiver you choose should strike a balance between form and function. It should also fit your budget.
Material – Durability is your watchword. Choose a high-quality build material to ensure your weapon will stand up to damage that naturally and inevitably occurs as a result of normal use.
Quality Control – Impeccable machining ensures that your parts fit and everything functions properly. Choose a manufacturer known for quality control standards.
If you can find a lower receiver that matches the intent of your weapon, falls within your budget, and is built to last, then you may have found the best AR-15 lower receiver for you. There are some other minor factors to consider as well. They include:
Finish – You want a finish that is free from defects and blemishes. Not only does it look good but it protects your weapon from chemical corrosion and exposure to elements.
Aesthetics – What your AR-15 looks like can influence how much you enjoy your weapon overall. Choose a lower receiver you like and that matches your aesthetic.
Performance Features –Don't sleep on this one. Features like flared magazine wells and tension screws can greatly improve the function and performance of you weapon.
Let's look at all of these in a little more detail.
What Type Of Lower Receiver Is Right For Me?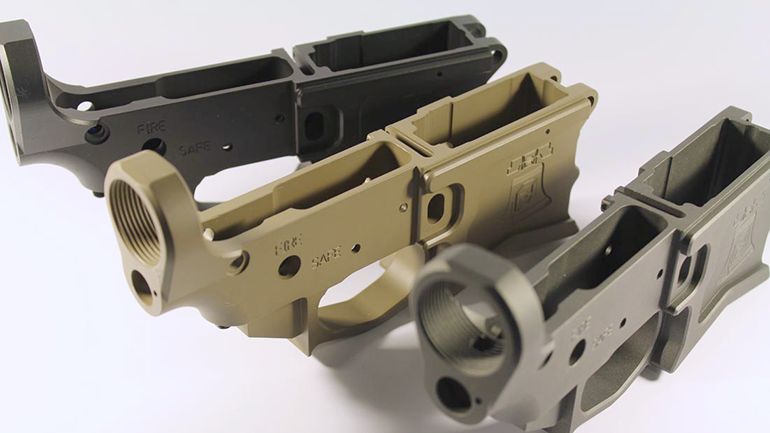 You will generally find 4 types of lower receivers, each with their own pros and cons that you should weigh. In order to get a better understanding of each, I've laid them out here.
Forged Lower Receiver
This is the most common type of lower receiver on the market, and its combination of strength and price make it hard to beat.
Forging is a process where hot metal is hammered into the general shape of a lower receiver and produces a stronger part than a billet or cast equivalent.
As the metal is molded during the forging process, its internal grain deforms to follow the shape of the part. As a result, the grain flows continuously through the part giving rise to a piece with improved strength characteristics.
After the lower receiver is forged, it receives heat treating to further strengthen the metal. It then undergoes a finishing process to clean up sharp edges, drill holes, and tap threads before applying markings and a finish.
The whole thing is rather involved, which explains why many lower receivers are made by only a few manufacturers and simply branded according to the distributor. As such, a lot of lowers share similar strength, reliability, and quality characteristics.
Interestingly, prices vary widely for forged lower receivers. For the reason listed above, this suggests to me that higher-priced units may not be the best value. When you can get a cheaper receiver with the exact same qualities, it's a no-brainer.
For the most part, a forged receiver will satisfy almost everyone's needs. Stick to a reputable manufacturer and tried-and-true materials (which I'll discuss later) and you're golden.
Billet Lower Receiver
A finished billet aluminum lower receiver is as much a piece of modern art as a hardcore firearms part. CNC machines carve each receiver from a single billet block in a process that can take upwards of a few hours. After everything is done, you're left with a rugged and good looking piece for your AR-15.
This manufacturing process does have its limitations, which can greatly affect the price. Since the process is so time intensive and because more material is wasted during the process, billet receivers tend to be more expensive than a comparable forged or polymer option.
In addition, billet receivers are inherently weaker than a forged receiver. But it should be noted that it's highly unlikely that you'll test is strength in any condition. And as such, billet receivers are very reliable and the lack of forging isn't of much concern.
The billet manufacturing process does offer room for greater aesthetic changes and performance tweaks that are impossible, or at least very difficult, to find in a forged receiver. Sometimes this means standard lower receiver parts won't fit and require proprietary parts exclusive to the manufacturer. This is definitely a detail you'll want to be cognizant of when making a purchase.
Otherwise, my advice for choosing a billet receiver is the same as choosing a forged receiver- get it from a reputable manufacturer that uses top-shelf materials.
Polymer Lower Receiver
Injection molding isn't a new technology but one that has taken a while to permeate the AR-15 market. Initial quality was suspect but the new generation has taken a great leap forward and now many manufacturers are offering highly reliable, cost effect parts.
The manufacturing process is simple but rather involved. A high-strength resin is injected into a mold that's shaped like the lower receiver. In some cases bolstering is added during the manufacturing process to increase strength and rigidity. In addition a metal insert is usually added to the pistol grip tang and buffer tube screw on area.
The benefit of a polymer receiver has is twofold. One, polymer lower receivers are, in general, lighter than aluminum receivers. However, because polymer isn't as strong as aluminum, more material is needed to meet the strength requirements, and that means the weight difference is usually pretty negligible between the two.
Two, the manufacturing process and materials are rather cheap, and this translates into a very cost effective product. In fact, most quality polymer lower receiver can be had for $100 or less. At that price, polymer receivers are definitely tempting.
As such, polymer receivers are great for builds where weight and cost are your prime consideration. My advice is to conduct your research and select a receiver from an established supplier like Tennessee Arms Company or similar.
80% Lower Receiver
80% lower receivers are great because they don't require a NICS check or an FFL to purchase. Since it's not considered a firearm, you can order one online and have it delivered right to your door.
But there are two more ingredients you'll need to make one of these function. First, you need to make an investment in tools beyond what you will need to assemble a 100% receiver. Second, you need the technical skills and know how to use those tools without messing things up.
Needless to say this is not a route you'll want to take if you're not comfortable using a drill press or router or if you're on a budget.
I would say, however, if you already have the tools or the money to purchase them, then this might be a project you'll like. And a few companies have really stepped up by offering jigs and drill plates that make milling an 80% lower receiver a lot easier.
Indeed, there is also a large group of AR-15 builders and a great community that can lend a hand should you run in to a problem.
What Do I Need To Know About Materials?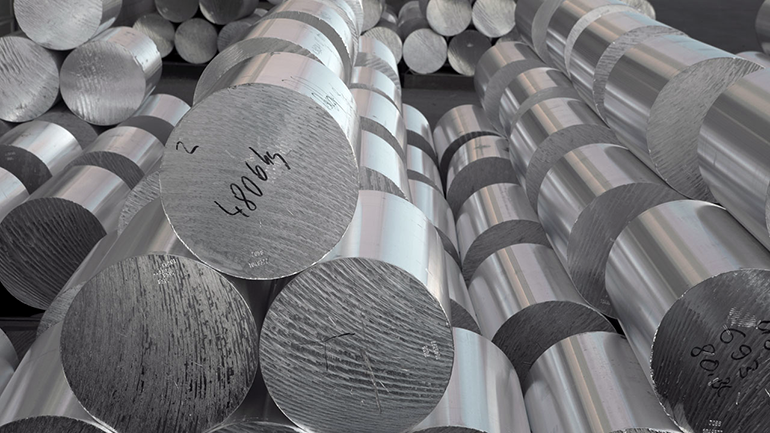 AR-15 lower receivers are commonly made from two types of materials- aluminum and polymer. Each material has their own benefits and drawbacks, so let's explore them a bit more.
Aluminum
With traits like low weight, high strength, easier machining and malleability, superb resistance to corrosion and ideal electrical and thermal conductivity, it's easy to see why this material is by far the most popular choice for AR-15 lower receivers.
While there are numerous alloys and even more temper options available, let's compare 6061 and 7075 aluminum alloys of the T6 temper variety- the most commonly found materials you'll find in AR-15 lower receiver construction.
6061-T6
6061-T6 aluminum is an extremely popular general purpose alloy used in everything from vehicle frames to fishing reels. It possess superior workability characteristics that make it easy to weld, extrude, and forge. However, it's not as strong or stress resistant as 7075-T6 aluminum. Here are it's general mechanical properties:
Tensile Strength: 45,000 psi
Yield Point: 40,000 psi
Shear Strength: 31,000 psi
Brinell Hardness: 95
Elongation at Break: 12%
Strength-to-Weight Ratio: 115 kN-m/kg
Essentially, there are three things that make 6061-T6 aluminum a popular choice for AR-15 lower receiver construction.
First, it is easier to machine resulting in less wear-and-tear on machinery overtime. We already know that the manufacturing process is complex and expensive, so reducing the frequency of tool replacement can translate in to big savings.
Second, since 6061 is one of the most common aluminum alloys in the world, it is widely available. Having access to high-quality materials is obviously crucial and high demand and availability often translate in to lower prices.
Third, price and availability go hand in hand. Because demand and availability are relatively steady prices for 6061 aluminum are relatively low compared to other alloys.
Although 6061-T6 aluminum is extremely capable, and more than adequate in most situations, it is not the best choice for all application. However, I would recommend 6061-T6 aluminum for 80% receivers since it's easier to machine. Otherwise, take 7075-T6 when available- it's a stronger more durable option.
7075-T6
7075-T6 aluminum is the choice for anyone looking for superior strength and durability. That includes the US Military, where 7075-T6 aluminum alloy is the standard. Take a look at the mechanical properties of 7075-T6 aluminum alloy and you'll see why it's so coveted:
Tensile Strength: 83,000 psi
Yield Point: 74,000 psi
Shear Strength: 48,000 psi
Brinell Hardness: 150
Elongation at Break: 10%
Strength-to-Weight Ratio: 196 kN-m/kg
Simply put, 7075-T6 aluminum has a strength-to-weight ratio that makes it ideal for many firearms applications. And, for all intents and purposes, 7075-T6 aluminum is nearly twice as strong as 6061-T6 aluminum.
This is accomplished by tweaking the ratio and types of trace elements, like copper, magnesium, and zinc, which significantly impact the properties of the metal.
But nothing is perfect, and 7075-T6 aluminum alloy does have negative characteristics. For example, it's hardness makes it more difficult to machine, it's more expensive, and not as readily available.
But all these factors are relatively minor and most manufacturers tend to stick to 7075-T6 as a standard. From my perspective, 6061-T6 aluminum is good enough in almost every situation, but 7075-T6 is really where you want to be if you want the strongest and most durable material possible.
Polymer
Polymer is a term for compounds made up of many molecules strung together to form really long chains and other complicated structures. Polymers can be made of naturally occurring or synthetic molecules and their properties depend on the specific molecules they're made from.
In the case of AR-15 lower receivers a number of ingredients are mixed together to create a polymer that is hard and durable. But in other cases polymers can be semi-solid or liquid.
There are a lot of reasons why polymers work well in firearm applications. They're relatively strong, lightweight, and economical to produce. They're also impact, abrasion, and chemical resistant.
But they're not perfect. Most polymers can't match the strength of aluminum in most cases. And when you consider the proprietary mixes of ingredients from some manufactures the properties are not the same across the board. This leads to quality and reliability issues.
Some areas of the AR-15 lower, particularly where the buffer tube is attached, experience a disproportionate amount of stress. This area has broken on some polymer lowers requiring design changes, new polymers, or bolstering to ensure proper reliability.
It seems that the companies are starting to overcome these challenges now and their next generation polymer lowers are showing remarkable reliability.
What Do I Need To Know About Quality Control?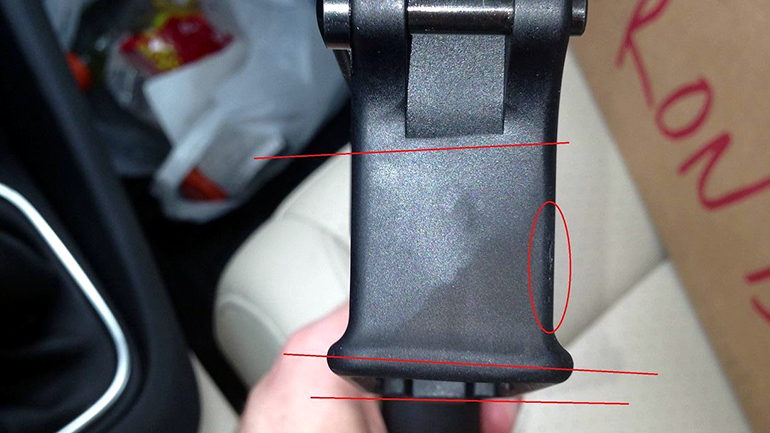 There's no question why you want a lower receiver made by a company that has an eye towards quality. It translates into a better looking and more reliable product overall. With that said, I think it's beneficial to list a few key areas that tend to have quality control issues.
Takedown/Pivot Pin Holes – All holes should be round, aligned properly, and machined to proper specifications. This is a common problem area and often you will see holes that are out-of-round, too small, too big, or otherwise out of specification. This leads to poor fitment between upper and lower receivers or takedown/pivot pins that are hard or impossible to get in or out.
Magazine Wells – Another common issue is the magazine well. Again, the magazine well should be machined to proper specifications. This ensures your magazine is held securely and drops away easily when you actuate the magazine release. Often, a poorly machined magazine well means your magazine fits too loosely or won't seat without a lot of effort.
Roll pin Holes – This problem is similar to the takedown/pivot pin issue. The AR-15 lower receiver is a vitally important part of the weapon. It houses a number of functions that ensure your weapon operates reliably and a lot of it is held together will small roll pins. These holes have to be precisely machined and aligned otherwise you may have issues.
Other Considerations
Now that we have the major factors out of the way, let's talk about a few minor considerations. These features won't impact the weapons function, but can indicate overall quality, are nice to have, or are otherwise good to be aware of.
Finishes
Military specifications call for a hardcoat anodized (Type III) finish on all upper and lower receivers. This type of finish provides a number of benefits to include superior corrosion, wear, and abrasion resistance as well as improved lubrication properties.
The process involves submerging the lower receiver in a sulfuric acid bath while applying an electrical current for anywhere between 10 minutes to 2 hours. During the hardcoat process, a uniform layer of aluminum oxide is formed on the surface that penetrates into the material.
Hardcoat anodizing is similar to standard anodizing (Type II), but the key difference is that hardcoat anodizing provides a surface that is more wear resistant and has a smoother and harder surface than standard anodizing.
Other popular finishes include Cerakote or Duracoat. These proprietary coatings are extremely durable and offer different colors, where hardcoat anodizing generally only comes in black. Which ever finish you choose it should be evenly applied and free from major blemishes.
Aesthetics
This may not be your first consideration, but aesthetics greatly affect how much you enjoy your weapon. After all, who wants to shoot an ugly gun. There are a few things you want to look for aesthetically speaking.
First, the type of receiver will affect the way it looks. All forged lower receiver typically look very similar while billet lowers can look very different since the manufacturing process provides a lot of leeway.
Second, consider the branding and logos. Even though a lot of lower receivers are manufactured in the same place, and thus have very comparable quality, the engraving on the side can be make or brake for some. In addition, there are a lot of small things that you may enjoy.
For example some lower receivers have the words "safe" and "fire" printed on them while others feature pictographs for the same functions. This is strictly subjective and what one person likes may not be what another finds appealing.
With that said, after running through all of the main considerations, select a lower receiver that is aesthetically pleasing to you.
Where To Buy An AR-15 Lower Receiver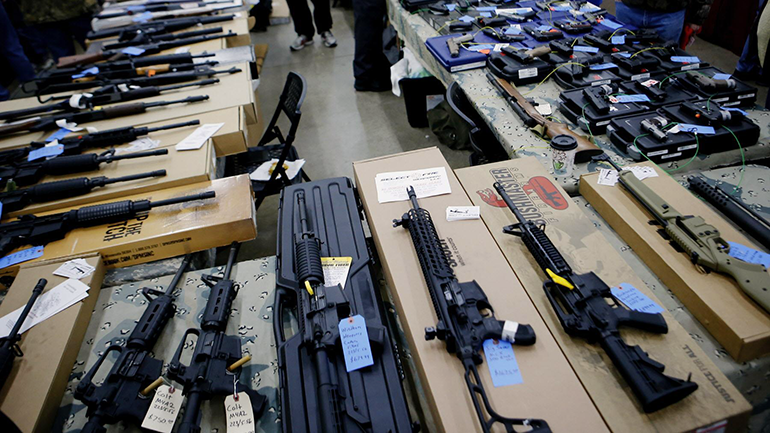 Once you have all your ducks in a row, the next step is choosing where you will shop. Luckily, you have a few great options and I'll talk about a few pros and cons for each.
Also, feel free to check multiple places, both online and off. That way you can make sure your are getting the best AR-15 lower receiver possible at the best price.
Online
You can buy a lower receiver online, and there are a ton of websites to choose from. You can even leverage social media to find somebody's used lower.
Pros – You get to shop for an AR-15 lower receiver without leaving your house, you can choose from dozens of sellers, and do research in real time. Since competition is strong and overhead is pretty low for online only retailers, you can usually find the lowest price available.
Cons – You can't see and feel your lower receiver before buying. This is a big deal for someone that likes to have something in hand before dropping the cash. However, many reputable retailers understand this and offer money back guarantees and very lenient return policies.
You will have to pay shipping with some companies, and in all cases your lower will be shipped to an FFL who may charge you a fee that will further eat in to your savings.
Gun Shops
Supporting local business is important to a lot of people, me included. And a lot of times the experience you find at a gun shop is invaluable.
Pros – You support local business and often get superb customer service. You also get to touch, feel, and experience your parts before making a purchase.
Cons – A lot of gun shops have significant overhead and that usually translates into slightly higher prices overall. That's not to say you can't get a great deal – particularly on used parts.
Gun Shows
Gun shows bring together a lot of retailers in one place, and competition is stiff. That usually translates in to big savings for you.
Pros – You get to choose from a number of retailers, and since they are all competing for your business you can usually walk away with a great deal. Some are even willing to negotiate with you – especially if you buy other products or service from them.
Cons – Some bigger gun shows can get packed and the whole experience can be trying at times. There's not only competition among retailer, but between customers as well. If you're not quick enough someone else is likely to snatch the deals out from under you.
Final Thoughts…
To sum it up, here are the key factors that will help you select the best AR-15 lower receiver for your money:
Select the right type of lower receiver that fits your application and budget. Forged lower receivers are great all around and are what I recommend most often.
80% lower receivers are not for the faint of heart. But if you have the time, money, tools, and technical aptitude then jump in.
Materials are important. 6061-T6 aluminum is adequate but 7075-T6 aluminum is best. Polymer may be a worthwhile option in some cases.
Durability and reliability are your watchwords. That means choosing a lower receiver from a manufacturer or dealer with a strong reputation for quality.
Look for a lower receiver that has a good finish and is aesthetically pleasing. This will go a long way towards long-term enjoyment of the weapon.
Select a lower that has the performance enhancements that will benefit you. Most lower receivers offer the exact same features, while others have small changes, like flared magazine wells, that make life easier.
I hope this helps you find the absolute best AR-15 lower receiver without spending a penny more than you have to!