It doesn't matter how awesome your AR-15 is, if you build it with a cheap gas block, you're asking for trouble. I've rated & reviewed 13 of the best AR-15 gas blocks available so that you don't make the mistake of choosing an inferior part.
Make
Specs
Rating

Top Pick

Geissele Automatics
Low Profile
Stainless Steel
Non-Adjustable

4.8/5

Check Price

Low Profile

VLTOR
Low Profile
Carbon Steel
Non-Adjustable

4.7/5

Check Price

Adjustable

Odin Works
Low Profile
Carbon Steel
Adjustable

4.7/5

Check Price

Titanium

Battle Arms Development
Low Profile
Titanium
Non-Adjustable

4.7/5

Check Price

Picatinny

JP Enterprises
Picatinny
Carbon Steel
Non-Adjustable

4.7/5

Check Price
The Research
I admit it, my first AR-15 build wasn't the rousing success I hoped for. And by that, I mean it barely worked at all. The problem, as it turns out, was a no-name gas block I picked up for cheap.
I was bleeding too much gas at the barrel leaving little pressure to cycle the action. To put it another way, there was not enough energy left to reliably eject and chamber a new round. Pretty embarrassing.
Fortunately, I was able to fix the problem by installing a new, high-quality gas block. But, it took several frustrating hours at the range to nail down the issue in the first place.
It was a hard lesson to learn, and now I pay close attention to every gas system component I put on my rifles – and you should too. I'm willing to shell out a few extra dollars for a great gas block knowing my weapon will be reliable day in, day out.
Rest assured, there are a ton of awesome, precision machined gas blocks on the market that will preempt any fitment issues like the one I had.
With that said, choosing the "best" gas block is a bit subjective. Since there are so many great options, it's impossible to say that one is better than another.
What I've done in this guide is rate gas blocks by evaluating quality and durability based on personal observation and observations of close friends and acquaintances. It's certainly not scientific, so keep that in mind.
To round things out, I've provided a very in depth primer on all aspects of gas blocks – so you'll be pretty well educated on the subject. Let's start with some major considerations.
Gas Block Major Considerations
After exploring some of the great options below, I think it's reasonable to assume you will have more questions than answers. That's where this guide comes in.
The intent with the next few sections is to explore the key factors you'll want to consider before purchasing a gas block. Luckily, it's a pretty simple component and there aren't that many things to be aware of.
The truth is, you're good to go as long as the gas block you choose is appropriately sized and accurately machined from durable materials. Though, there are a few minor elements, like finishes, that should be considered as well.
Also, depending on your setup, you will need to decide if an adjustable gas block is required. These gas blocks let you fine tune the amount and pressure of gas seen inside the gas system. This facilitates smooth, reliable, and efficient feeding and extraction of rounds, particularly in short barrel or pistol applications.
Let's look at all of these in a little more detail and hopefully answer any questions you may have at this point. As always, if I miss anything feel free to let me know.
Gas Block Materials
The gas block is positioned over the gas port and straddles the barrel. Its purpose is to manage the flow of gas through the gas port down the gas tube and into the gas key located on the bolt carrier. It's a simple, but critical component.
Since it interacts with very hot, high-pressure gas, the gas block has to be made from a sufficiently durable material. Carbon steel, stainless steel, or even titanium are best suited for this application.
Aluminum gas blocks are available, but I generally don't recommend them. Aluminum is soft and can erode faster than the aforementioned materials. Plus, the expansion rate of aluminum is significantly different than most barrel materials. As such, repeated heat cycling may cause your gas block to come loose over time.
Below, I've listed the three most common gas block materials – carbon steel, stainless steel, and titanium. Each has its benefits and risks and the one you choose will come down what suits your application best. Let's take a look at these materials in detail.
Carbon Steel
Carbon steel is the most popular construction material and it's perfect for this application. It is very durable, easy to machine, and cost effective. It also offers a small thermal expansion coefficient, meaning it expands very little ass it heats up. This minimizes the potential of your gas block coming loose or moving due to repeated heat cycling.
There are some downsides to carbon steel, however. It is prone to rust and sensitive to some chemicals, which may erode your gas block over time. Because of this, carbon steel requires a corrosion resistant finish like phosphate or melonite.
Stainless Steel
Stainless steel retains many of the positive traits of carbon steel, like durability and small thermal expansion coefficient. Though, it has it's own characteristics, which make it a great material for this application. Stainless steel is naturally corrosion and chemical resistant, so it doesn't necessarily need a protective coating. And, it is extremely hard, even compared with carbon steel.
Stainless steel is generally more expensive and harder to machine. As such, you will pay a slight premium for stainless steel gas blocks in most cases. Though, the difference is usually minimal.
Titanium
Titanium is an interesting material and has a lot of benefit that make it a great option for AR-15 gas blocks. Like carbon and stainless steel, titanium is extremely hard and durable. It's also naturally corrosion and chemical resistant, making a protective finish unnecessary.
On the other hand, titanium is approximately 40% lighter than steel and just as strong. Making it great where low weight and strength are key considerations.
Titanium is typically expensive and difficult to machine, making it even pricier than a stainless steel equivalent. There isn't much selection, either. Though, prices are coming down and availability is increasing as time goes on.
Gas Block Finishes
The purpose of any finish is to protect the component from premature wear and corrosion. Since the gas block is subjected to very hot, high-pressure gases it is an important consideration.
There are a number of gas block finishes out there and each has its own purported benefits. In most cases, phosphate or nitride finishes are more than adequate.
Some materials like titanium and stainless steel don't necessarily require a finish. Though, they are sometimes added as an additional layer of protection or even to improve aesthetics.
To keep things simple, I'll break down a few of the more common finishes available and discuss their pros and cons here.
Phosphate
Phosphate finishes are most popular because they are cheap and easy to apply, but provides good protection against corrosion. Phosphate also offers improved friction properties, though in this case that's not important.
To apply the finish the gas block is submerged into a heated phosphoric acid solution containing dissolved zinc or manganese phosphate salts. When the metal is placed into the solution, a simple reaction takes place, causing the dissolved salt to fall out of solution and precipitate on the surface.
Overall, this is a tried-and-true finish that is suitably durable for this application. Though, if you are looking for something a bit tougher without a big jump in price, nitride may be a better option.
Nitride
Like phosphate, a nitride finish will protect against corrosion, heat, and will give a longer service life. However, the process provides for a more uniform application and is quite a bit stronger. In fact, the nitride process impinges nitrogen into the steel itself, effectively case hardening it.
Because of these great qualities, a nitride finish is often applied to other AR-15 parts like barrels and bolt carrier groups. Much like the gas block, these components undergo a tremendous amount of stress so the improved durability and lubricity are crucial.
Other Finishes
More exotic finishes like nickel boron or nickel Teflon are becoming more popular, though usually demand a premium price.
Having had quite a bit of experience with these finishes, I can say they are very good. They're durable and hard-wearing. But they aren't altogether necessary.
Like I hinted at above, phosphate and nitride work very well and are cheap. But if these finishes match your application or aesthetic, go for it!
Gas Block Sizes
Gas block size is often an afterthought, but obviously important. To guarantee a proper fit, you need to ensure the gas block is the appropriate size for your barrel.
The most common gas block (and barrel) diameter is .750″. Though they are available for thin profile barrels, typically at .625″, as well as thick profile barrels in the .875″ and .936″ range.
These are the standard sizes you will find, but I'm sure others are available, too. Just be sure to consult your manufacturer or use a device like a micrometer or vernier caliper to determine which size you need.
Be aware that additional work may need to be done to fit your new gas block. Often tolerances are so tight that additional honing or sanding may be necessary. This isn't a bad thing, it just comes with the territory.
Gas Block Attachment Methods
There are two common methods for attaching a gas block to the barrel – either by slipping it on or clamping it on. Slip-on style gas are most popular and considered the more stable, reliable option. Though, clamp-on style gas blocks certainly have their place, too.
Slip-on models simply slide down the barrel and are anchored by setscrews on the underside. Though not totally necessary, it is recommended that you dimple the barrel where the setscrews will tighten down. This guarantees a rock-solid installation and prevents the gas block from coming loose over time.
Like I mentioned above, tolerances can be very tight and often times you need to hone the gas block a little bit so that it slide in place. This is both a pro and con. Since it is such a close fit you probably won't have any leaks, though the process can be painstaking and time consuming.
Clamp-on style gas blocks forgo this issue. Like slip-on gas blocks they slide down the barrel and are positioned in place, but since their is a small gap in the gas block you can easily accommodate for tolerances. Simply tighten down the screws and you're good to go.
There are two small down sides, however. The clamping action is inherently not as strong as the set screw option and this style of gas block tends to be a bit bulkier. So, if you have a very thin handguard you can have issues fitting it under there.
I will say, though, both options are perfectly viable and ultimately what you choose will come down to personal taste.
Best Low Profile Gas Block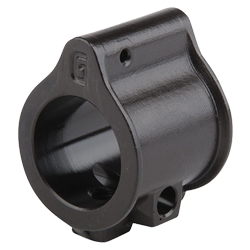 Low profile gas blocks are compact and made to fit under long free float handguards. They can also replace A2-style front sights if you are transitioning away from traditional drop-in handguards.
The gas block is subjected to a tremendous amount of heat and stress. As such, it needs to be built with durable materials and finishes so that it can withstand the abuse. This is even more crucial for low profile gas blocks.
Since they are made with less material, and, therefore, have less mass, any imperfection or weakness in the medium can cause the gas block to fail prematurely. Because of constant heat cycling, cracks may rapidly propagate in inferior materials, for example. This can cause your gas block to come loose or break.
Right now, there are a lot of great low profile gas block options on the market – the five (5) listed below represent some of the best. They are all precisely machined from high-quality stainless or carbon steel and feature tough finishes like phosphate and nitride.
They're also produced by reputable companies that stand behind their products. This means high quality control standards, great customer service, and liberal return policies if something does go wrong. So, if you're looking for a simple, rock-solid gas block, then one of these will suit you well.
Top Low Profile Gas Blocks Compared (Click 'Read Review' to Expand)
Best Adjustable Gas Block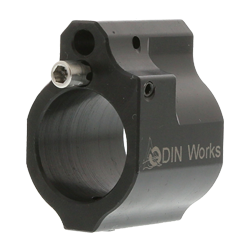 Adjustable gas blocks let you fine tune the amount and pressure of gases inside your gas system. The ability to make granular changes can dramatically affect the function and feel of your weapon overall. And, for AR-15 pistol or other short barrel applications, they're almost a requirement.
Over-gassed setups like these tend to be very harsh, which, in some cases, leads to severe degradation and reduced lifespan of parts. By reducing the amount and pressure of gas you can smooth things out a bit, while maintaining enough energy to effectively cycle the action.
By coupling an adjustable gas block with other mods, like low mass bolt carrier groups and lighter buffer and buffer springs, you can see even more improvement. This is particularly useful for competition shooters where lighter felt recoil means faster target acquisition.
Many considerations are the same for adjustable gas block as they are with non-adjustable blocks. Things like high quality materials, finishes, and construction are paramount. Though, adjustable gas blocks require a bit more attention to detail to get right.
Things like ball detents and locking screws give you positive feed back and guarantee precise, stable adjustments. The three (3) adjustable gas blocks listed below represent the best available.
Top Adjustable Gas Blocks Compared (Click 'Read Review' to Expand)
Best Titanium Gas Block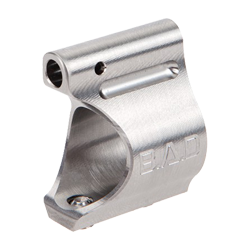 I've also included my picks for best titanium gas block. Titanium is exceptionally strong, light weight, and heat resistant, so it's no wonder why it's such a popular choice. Though, right now, selection is rather limited.
However, more and more manufacturers seem to be jumping on the titanium bandwagon and it's just a matter of time before more options become available.
A low weight gas block reduces the overall weight of your weapon. Though, if I'm being honest, it doesn't save you that much. A half ounce here and there isn't going to make a huge difference. But I do understand many people like low weight builds, and this is just another tool in your box.
For me, the bigger benefit is from reduced weight at the end of the barrel. Removing weight from here effectively shifts the balance of your weapon towards your hands giving you more positive control. For some, this may affect practical accuracy and target acquisition time.
Whatever the reason why or regardless of whatever benefits you may find appealing, titanium gas blocks are an excellent option. The two (2) listed below represent the best of the bunch.
Top Titanium Blocks Compared (Click 'Read Review' to Expand)
Best Picatinny Gas Block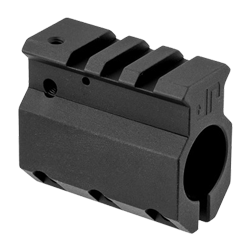 Picatinny gas blocks are a great option for replacing standard A2-style front sight posts since most are long enough to cover up the unsightly taper pin holes. They're also a popular among builders that want to maintain drop-in handguards.
Though it's possible to keep your drop-in handguards with other gas blocks, you lose some functionality as there's no way to mount sights and accessories, otherwise.
One downside of picatinny gas blocks, from many peoples perspective, is aesthetics. Some find them to be too big and bulky, taking away from the streamlined profile of the weapon.
Admittedly, it's very subjective and I'm of the philosophy that you should always use what works for you. And, if that's a picatinny gas block, that's great. So, if you're in the market for one of these gas blocks, the three (3) listed below are great options.
Top Picatinny Blocks Compared (Click 'Read Review' to Expand)
The Wrap Up
Just to reiterate, there are a lot of great options available and as long as your gas block is accurately machined from quality materials and has a solid finish, you're good to go. Of course, keep in mind what size you need and and what attachment method you require.
If you're unsure of what gas block you should choose, or if you don't know which option above would work best with your budget, you can post your question below in the comment section and I'll get back to you as soon as possible.